TSC TE 200
SETUP INSTRUCTIONS
1) Plug printer into wall and USB port of computer. Turn on.
2) Load the stickers. Watch this video for directions: HOW TO LOAD STICKERS
3) In the bottom left of your Task Bar it says "Type here to search", click then and type "Device Manager" and select it.
4) Scroll down to "Printers" and expand it.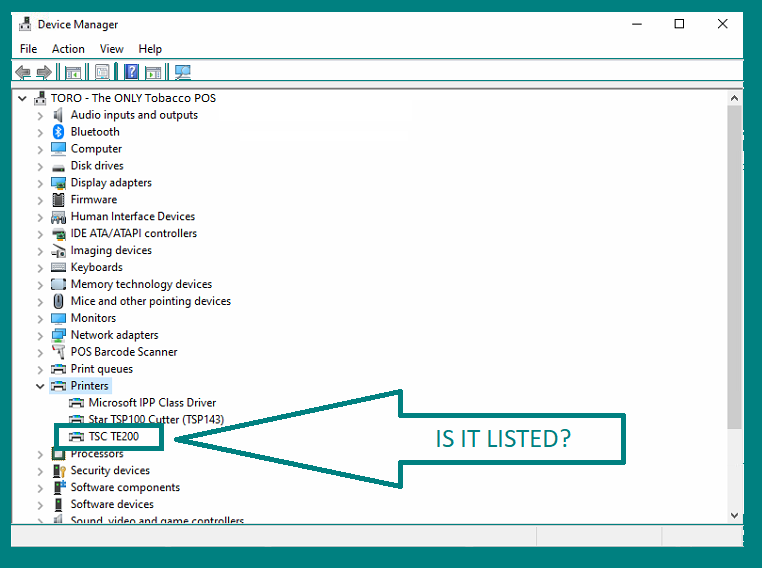 5a) If you see "TSC TE200", then skip to TURN ON THERMAL MODE section below.
5b) If you don't see "TSC TE200" listed like in the picture above, then continue on to step 6.
6) Install the Printer Driver. Click link and your download will begin. Once downloaded, install the printer driver. PRINTER DRIVER
7) Check the "Device Manager" and make sure you see it listed now.
8) Proceed to next section, TURN ON THERMAL MODE.
TURN ON THERMAL MODE
Read the 5 steps below before starting. Then do them.
Turn off printer
Hold down button on top
Turn on printer
When it blinks red 3 times, let go of button
Once it turns to green, press button 3 times. By the third time, it should feed out one label each time
Press one more time.

Success – Feeds out one more label.
Fail – Nothing. Call POS Guys.
INDEPENDENT BARCODE SOFTWARE
If you are looking to print barcodes external to TORO, then use the software below.
HOW TO LOAD STICKERS